This 2-day weekend will focus on deep group work for men who are ready to confront and face shadows and obstructions preventing their well-being and full presence in the world.
The aim is to shake free and release unprocessed feelings, emotions, and elements of our unconscious that are stuck and interferring with our lives. In doing so, we can step into bigger versions of our manhood that are deeper, more integrated, more alive, and more powerful in the world.
The weekend will be highly integral, exploring body, mind, emotion, and spirit through dynamic group process work. A very strong and safe container will be set to create the optimal conditions for deep work.
SCHEDULE
9:30am-6:30pm both Saturday & Sunday
60-90 minute break for lunch both days.
Light snacks and drinks will additionally be provided as nourishment throughout the day.
PREPARATION
Wear clothes you are comfortable doing light physical practice in. Each day we'll be weaving in some breath and body exercises between the rounds of group shadow work.
We'll be sitting in backjacks on the floor together. These are small chairs without legs that provide lower back support. If you think you'll need additional support, please bring a meditation cushion or let me know how I can help you ahead of time.
Upon registration you'll be sent an intake form with a few questions so you can let me know if there's anything specific you'd like to explore during our time together. It's totally okay if you're not sure yet, the process is highly intuitive, organic, and in the moment.
QUESTIONS
Email [email protected] if you have any questions about the weekend.
ABOUT JASON & EVOLUTIONARY MEN
Jason Lange is the founder of Evolutionary Men. He helps men tap into their innate integrated masculinity to have more powerful lives and relationships. He mentors men 1-on-1, leads men's groups, runs online programs, and facilitates co-ed Authentic Relating events. He has trained with zen masters, psychotherapy jedis, and embodied warriors.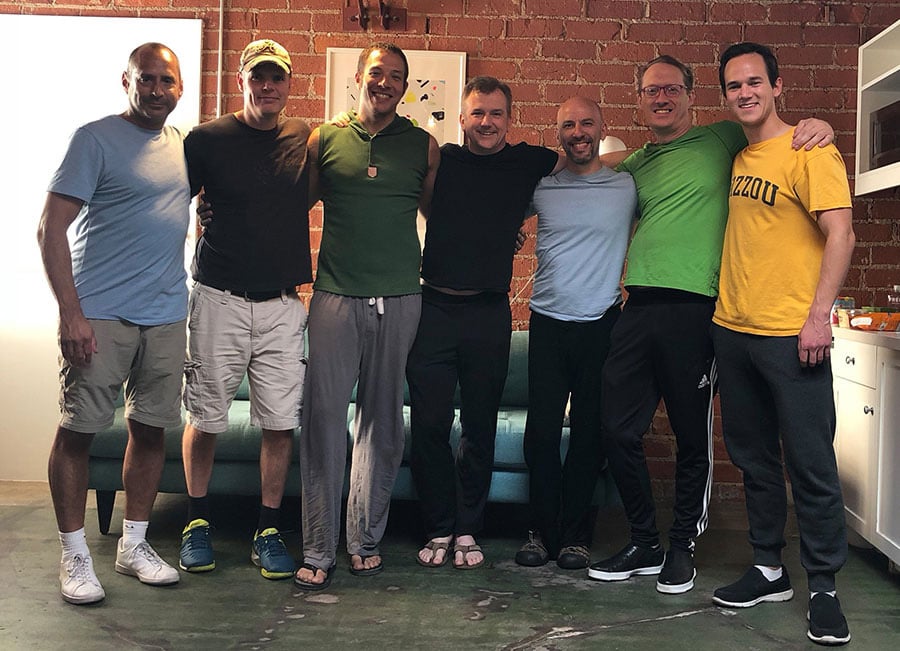 I have never attended a mens workshop, or any other self building workshops / seminars, so leading up to the weekend I had many thoughts of doubt and wondering if I would come away with anything redeemable in my own personal life.
From the very start of group meet and greet Saturday morning I could see that the other guys were there to drop in. With Jason's well-honed guidance and beautifully constructed container that he built and provided throughout the weekend, it allowed each and every man to find unknown depths within and work through those darker more shadowed regions of our beings. I felt completely held and revered by the other men who had become brothers during the weekend.
I came away from the Shadow Work weekend feeling more deeply connected to myself and knowing that I possess enough in any and all circumstances of life. A strong 'I got this' feeling now resides in me and the brothers I went through this work with are in my presence. I feel honored to have been part of the Shadow Work weekend with Jason and HIGHLY suggest it be attended by all men, at any stage of their lives! Brent, CA
I walked into Jason's Shadow Breakthrough Weekend for Men looking to improve business growth, relationship, and skills with communication. Little did I know how much of a positive impact the weekend would have on my life. The deep connection with men helped us all work through the most important aspects our our lives. I found myself in each of the other men, and each one of them found themselves in me. I do not know why Jason chose to double down my weekend time on my relationship, but if I had to guess, he knew all along that if my relationship foundation is solid, all else will follow through. You won't regret letting Jason lead the way for your personal growth!
PS. The future connections with the other men are a extra bonus… 
Jesse
First off, I have to acknowledge that this Shadow weekend synchronistically became available in the right way at just the right time when I absolutely realized I needed it… that in itself had a lot of magical manifestation in it. The container and facilitation that Jason provided was was supremely effective to help me release the first pressure wave of a lot of deep dark emotional trauma that I couldn't get to otherwise, but I knew I had to. It feels like I also have started to connect with my inner wounded child . What more can I say besides deep gratitude for helping me step into a more satisfying and less burdened life. Greg